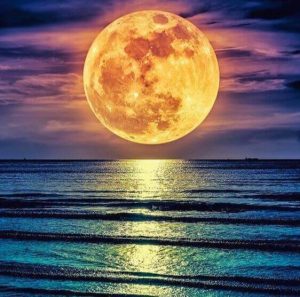 The full moon of Feb 8, 2020 (11:33 pm PT) shines a nourishing light that can heal your body, mind, and soul.  Falling in the oceanic sign of sidereal Cancer, this full moon is raising the tide of the heart with motherly compassion and emotional sensitivity.
This bright winter full moon (4th brightest in 2020) will fall in the Vedic astrological star of Ashlesha, the star of the mysterious kundalini snake known for its transformative healing powers.  Ashlesha full moon can magnify emotion, hypnotize the heart, and help relay important messages from the spirit world.
Ashlesha full moon can sometimes increase the potency of prescription drugs and herbal remedies, so be conscious to take the proper dosage at this time.
Know your Vedic Birth Star? Click here to get the free Nakshatra Key
In Hindu mythology, naga snakes are coiled in the earth's core, as well as the root chakra in our bodies, and are anchored to a well of primordial life energy.
This full moon is also celebrated as the auspicious Magha Purnima, the last and most important day in the sacred month of Magha. In India, religious rituals, fire ceremonies, and holy baths are being performed where the Ganga, Yamuna and Saraswati river meet. (Prayag)
Many planets are strongly situated in the sky right now, including compassionate Venus who is exalted in Pisces and visionary Jupiter in Sagittarius. The days surrounding this full moon are auspicious for launching projects and making commitments.
But take heed, Mercury Retrograde begins on Feb 16, a notorious 3-week period of miscommunications, computer problems, and likely travel delays. Mercury will station retrograde in the Vedic star of 100 healers, Satabhisha.  On the positive side, this is an excellent time to revise, repeat, and improve healing strategies for the future.
Ashlesha full moon can feel overwhelming for highly sensitive individuals. Healthy boundaries are especially important now. If you feel ungrounded, try bringing your awareness into your body.  Focus on the present moment or sit in meditation.
This full moon holds a therapeutic dose of healing light that can turn challenging health issues around and clear out emotional stagnation for good. Take time to remember the things in your life that support you and hold you safe.
To learn more about how these influences affect you, book a Vedic Astrology Reading.