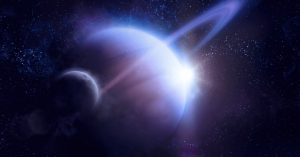 The new moon of Jan 24 (1:42 PM PT) marks an important cosmic turning point. Saturn, the planet of limitation and structure, is finally moving signs into Capricorn, where its grounding influence can help make long-term goals a reality. If you've been waiting to see results, this new moon heralds real progress.
Like Saturn, the new moon also falls in sidereal Capricorn, doubling the influence of this practical and determined sign. Specifically, this dark mid-winter moon falls in the Vedic nakshatra, or lunar mansion, known as Shravana. Sometimes called the ear of God, or the star of learning, Shravana magnifies the power to listen and communicate ideas. It also slows things down so you can better absorb knowledge and observe the world around you.
Know your Vedic Birth Star? Click here to get the free Nakshatra Key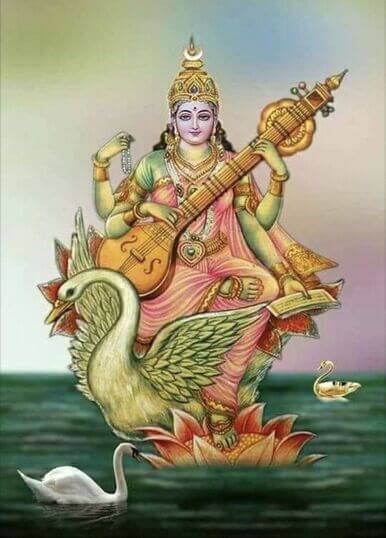 The Hindu goddess Saraswati—the mother of music, sound, and language—dwells in Shravana. Like the ancient river named for her, Saraswati births words and ideas that flow invisibly from our hearts and minds. Subtle messages from the spirit world can also be heard around this time, so listen closely.
Meanwhile, Saturn's mission in Capricorn is to build a more solid and sustainable structure for the future. In Vedic Astrology, the sign of Capricorn is called Makara, which means crocodile. Crocodiles are tenacious survivors that take things slow and move with strength. With Saturn in Capricorn, you can work through challenges that may have previously seemed insurmountable, and take on new responsibilities in your work or home life.
Since the beginning of 2017, Saturn has been in the idealistic sign of Sagittarius, creating waves of disillusionment and casting a cynical eye on corruption, hypocrisy, and the unsustainable status quo. Since Saturn refuses to support blind faith in Sagittarius, you may have found yourself chasing your dreams in a sea of self-doubt, or wondering how to move forward. Now, with Saturn in Capricorn until January of 2023, you may find yourself capable of building what before you had only dreamed of.
This Shravana new moon marks a time of profound change. It represents nothing less than a paradigm shift, so be prepared to step into your power as never before.
Here's your Vedic Saturn Horoscope for the upcoming three-year transit in Sidereal Capricorn. Remember that these are based on your Vedic Sign. You can look at both your ascendant and moon sign to learn how this Saturn transit will affect you.
**This is meant as a rough guide. Everyone will experience Saturn's transit in Capricorn according to their unique astrological chart. A better way to understand the changes and shifts coming up is to schedule a one-on–one Vedic Astrology reading with me here. 
Aries – There's a lot of work up ahead, so be prepared to step it up — just make sure to pace yourself. With patience comes success. If you're feeling unsupported in your current work situation, it may be time for a change.
Taurus – Saturn transits your house of higher learning, making this an opportune time to study a new skill or subject. Be patient and tolerant with father figures and teachers. A good time for travel.
Gemini – Research and diligent inquiry can reveal answers to problems that have long troubled you. Shadow work and the study of esoteric subjects deepen self-understanding. Some ups and downs with financial matters are possible throughout this Saturn transit.
Cancer – Greater maturity in relationships and solidifying commitments are in the cards. Separation from business partners or spouses could occur if responsibilities are not owned up to. Learning new communication skills and taking care of your health is advised.
Leo – This is a great time to improve organizational skills. Hard, diligent work with slow but steady gains. Be sure to get enough exercise and watch your diet. Saturn will help you win over competitors and enemies, but other relationships could come under pressure.
Virgo – Building a strong and organized foundation will help you be constructive in the long run. Time to get serious about your creative dreams and romantic connections. Children may need more attention, or may be moving out.
Libra – Take care of your emotional well-being through talk therapy or dream-work. It may be time to move house, or put extra energy into the upkeep of your real estate or vehicle. Financial pressures could occur, but with dedication, it is possible to pay off old debts.
Scorpio – This is a time for recovery and regaining your self-empowerment. If you're a teacher, try not to be hard on your students, and if you have siblings, be patient with them. Learn a new skill that takes practice and dedication. Keep your body moving, and your words clear and truthful.
Sagittarius – Financial security and responsibility will come into greater focus. Remember to love and appreciate your family, and all that you have. Work on finding your true, authentic voice, and pay attention to your diet.
Capricorn – Saturn's transit in Capricorn is a powerful opportunity for spiritual growth and maturity. Take an honest inventory of your life, and get to work on those areas where you're unsatisfied. Take care of your health, and rest more, if possible.
Aquarius – Tap into your intuition, and work on healing unconscious resentment and self-sabotaging tendencies. Spiritual and charitable work is supported. This could be a time of closure, such as moving into retirement, finishing up long-term projects, or changing residence.
Pisces –Wise, mature, and dependable friends are of great importance, while others will be cut out. Support networks and referral systems grow stronger. Hard work can really pay off around this time, and your career may advance.