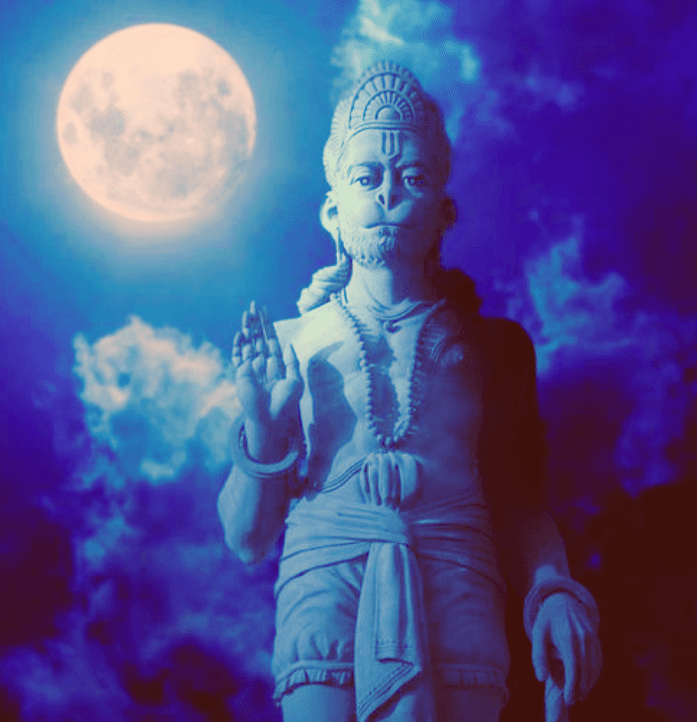 The full moon of April 5 (9:34 pm PT) has a courageous and creative power in it.  Celebrated as the birthday of Lord Hanuman, the monkey god of the Ramayana and avatar of the wind, this full moon can blow open new channels of self-expression and healing.
The full moon falls in the area of Virgo called Hasta Nakshatra in Vedic astrology. Symbolized by a hand, this Vedic lunar sign grants the power to manifest your vision and get it into your hands.
Know your Vedic Birth Star?  Calculate yours and get a free guide.
Savitur, the "golden handed," Vedic god of the rising sun, rules over Hasta. Writing, artwork, and all sorts of healing modalities done by hand, like acupuncture, massage, and reiki are empowered by the light of this full moon.
With communicative Mercury in exchange with strategic Mars until May 10, mental energy is especially strong now. This is an auspicious time to write or speak about ideas and feelings. Planning projects, and getting things communicated well and clearly is important to do before Mercury turns retrograde on April 21.
Saturn has entered the mystical star of Shatabisha, where deep processes of healing are slow, but lasting.  With Saturn's direct gaze (dristi) on Mercury, take time to attend to details and listen carefully to your heart.
The goddess of love and money, Venus, has been in fiery Aries with Rahu since March 11.  New friendships, and shifts in relationship and money matters, may have occurred suddenly in the last 3 weeks. Venus will transit into sidereal Taurus after the full moon, helping to stabilize emotions, and bring economic security.
This full moon is also celebrated as the birthday of the monkey god, Lord Hanuman, a devotee of Lord Ram who battled a terrible demon that threatened to destroy the world.
Lord Hanuman symbolizes an infinite strength and courage that is within the human spirit to stand against terrible odds.  Listening to the Hanuman Chalisa  can magnify the positive influence of this full moon, and inspire courageous and creative actions in your life.
How these planetary transits affect you personally depends on your birth chart.  Book a Vedic Astrology reading to learn more.