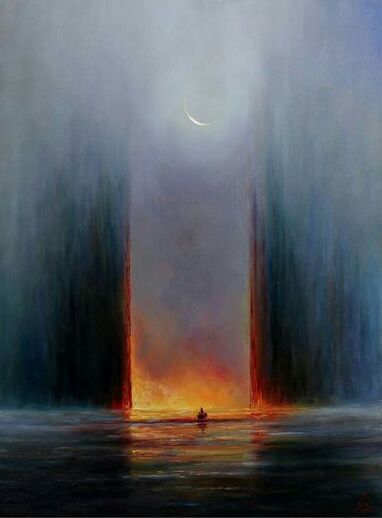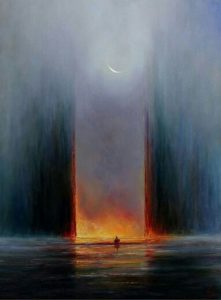 Feeling Surreal?  A wave of shock is sweeping over the world as the pandemic continues to spread. We're at the dawning of something strange and transformative, and the new moon of March 24 (2:28 am) is a powerful gateway through it.
The new moon will be in the area of the sky known as Uttara Bhadrapada, at the final degrees of watery Pisces – the last sign of the zodiac.  The stars in the constellation of Pisces are ancient symbols of the beginnings and endings of great cycles. Uttara Bhadrapada is associated with loss, death and fire, including the funeral pyre at the end of life.  This is a new moon that burns, but also calls forth the Piscean waters of rebirth.
The new moon falls just 4 days after the equinox, and is at a critical juncture that marks a whole new Vedic astrological cycle — the Vedic New year. We are now leaving behind the Year of Vikari, a word that literally translates as "Sick, ill, or diseased," and entering the Year of Shavari, which translates as "twilight or night."
Twilight is a mystical time, with deep spiritual potential, and this certainly is a transitional time between darkness and light. A pull toward the inner realm is growing in the year to come, especially for those who seek knowledge and self-understanding.
On March 30, expansive Jupiter will enter the practical sign of Capricorn, sparking a renewed drive to meet the challenges up ahead…
The Great Conjunction of Jupiter and Saturn
and Jupiter's Transit into Sidereal CapricornRemedies to strengthen Jupiter and
protect you in the months to come.Horoscopes for all 12 Signs + Live Q&A.
---
Take heed, there's some volatile alignments ahead. Mars and Saturn will be in graha yuddha (war) March 30 – April 1, igniting more intense situations. The fiery red planet, Mars, will stay in sidereal Capricorn (with Pluto, Saturn and Jupiter) until May.  In this time the hard and stoic power of Capricorn will rule.  This is a powerful time to get work done, so stay focused on love, and what you can do to help stop the spread of the virus.
​This new moon initiates the sacred waxing moon of Navaratri – the 'nine nights of the Goddess' celebrated in spring and fall.  In the waxing moon nights to come, nine different Hindu goddesses, all aspects of the divine feminine, are called on to heal and protect the world. To learn more about the goddesses of Navaratri, read article here.
It's said that whenever an overpowering force of negativity arises in the world, the goddess Durga is the one who stops it in its tracks. You're invited to join us for this free live stream event on March 24 (6:00 pm Pacific Time), as we gather together in prayer to kickstart the 9 nights of the goddess.